Barry Gordon

Born:

December 21, 1948 (age 65)

Location:

Brookline, Massachusetts

Roles:

Actor, voice actor, TV host, TV producer, singer

Characters Played:

Junior Wetworth, Governor Wetworth (Seasons 3 and 4), additional voices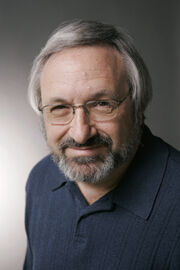 Barry Gordon (born December 21, 1948) is an American flim and TV actor, voice actor, political talk show host, and producer. On The Snorks, he was best known for voicing
Junior Wetworth
,
Governor Wetworth
in the last two seasons, and a few additional characters. 
Characters Played
Other Notable Voice Roles
Donatello - Teenage Mutant Ninja Turtles (1987 series)
Nestle Quik Bunny (1978 - 2005)
Razor/Jake Clawson - SWAT Kats
Clamhead - Jabberjaw
Dr. Fossil - Darkwing Duck
Reggie Moonshroud - Gravedale High
Inky - Pac-Man
Captain Marvel Junior/Freddy Freeman - The Kid Super Power Hour with Shazam!
American Rabbit - The Adventures of the American Rabbit
Acting Roles
Chopper Cooper - Leave It To Beaver
Buzzy Hanson - Dennis the Menace
Harry Johnson and Jack Benny as a child - The Jack Benny Show
Dennis Whitehead - The New Dick Van Dyke Show
Charlie Harrison - Fish
Gary Rabinowitz - Archie Bunker's Place
Roger Hightower - A Family For Joe
Nava - Star Trek: Deep Space Nine
Mr. Levin - Becker
Rabbi - Curb Your Enthusiasm
Early Career
Barry Gordon was born in Brookline, Massachusetts, but moved out to Hollywood as a young child. At the age of six, he recorded "Nuttin' For Christmas," which made him become the youngest performer to hit the American Top 40 (it was #6 in 1955). He guest starred on numerous TV shows throughout his childhood, and continued to thrive in the acting business throughout the next several decades. 
Personal Life
Bary Gordon was president of the Screen Actors Guild from 1988 to 1995. In 1998, he was the Democratic Party nominee for the US Congress, representing Pasadena. He lost that year to the incumbant James Rogan (of the Republican Party). Also in 2007, he hosted Barry Gordon From Left Field, a progressive radio talk show. He has also been married four times. 
Community content is available under
CC-BY-SA
unless otherwise noted.