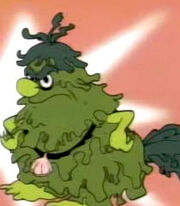 Bigweed

Gender:

Male

Age:

Unknown

Hometown:

Somewhere near Snorkland

Family:

Unknown

First Appearance:

Allstar's Last Hour

Final Appearance:

My Dinner With Allstar

Voiced by:

Michael Bell
Bigweed is a seaweed-like creature and has been the main antagonist of the Snorks series since Season 3. He has magic abilities, such as disguising himself as a snork or any other sea life. He seems to take over Snorkland and enslave the snorks, but always ends up being outwitted.
Biography
It is unknown about Bigweed's past.
Personality
Bigweed is portrayed as being relatively cocky and sneaky, especially when it comes to getting what he wants. While he's portrayed as a villain, he does have a few soft spots (The Daring Young Snork on the Flying Trapeze, My Dinner With Allstar).
Appearance
Bigweed is overweight and is covered in seaweed. He also has a large lime green nose accompanied with a large clam necklace.
Relationships
Lil Seaweed
He and Lil Seaweed are "partners" when it comes to villainy. However, they sometimes act like an old married couple and will often argue and bicker about various things such as their schemes. It has, however, been hinted that he might have some feelings for her (The Daring Young Snork on the Flying Trapeze).
Allstar
Bigweed and Allstar are arch-enemies. On the other hand, they have been known to help each other out (My Dinner With Allstar).
Trivia
Community content is available under
CC-BY-SA
unless otherwise noted.