Bob Holt

Born:

December 28, 1928

Location:

St. Louis, Missouri

Died:

August 2, 1985 (age 56)

Location:

Van Nuys, California

Roles:

Actor and voice actor

Characters Played:

Mr. Seaworthy (Seasons 1 and 2)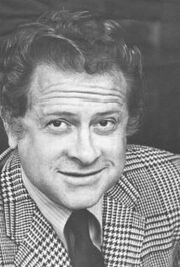 Bob Holt (December 28, 1928 - August 2, 1985) was an American actor and voice actor. On the
Snorks
, he voiced
Mr. Seaworthy
for the first two seasons before
Jim Cummings
assumed his role. The
Season 2
episodes were released posthumously. 
Characters Played
Other Voice Roles
Cop-Tur - Challenge of the GoBots
Rodney - The Adventures of the American Rabbit
Dom Gordo of Ghent - Disney's Adventures of the Gummi Bears
Spinner, Bump, and Flip - The Biskitts
The Hulk/Wally Waldo - The Incredible Hulk (1982)
Acting Roles
Octavius Caesar - Julius Caesar
Dr. John Dolittle - Doctor Dolittle (1970 series)
Personal Life and Death
Bob Holt was born in St. Louis, Missouri. His first film role came in 1950, when he portrayed Octavius Caesar in the film Julius Caesar. However, his first voice acting role came along in 1968, when he performed for the short Johnny Learns His Manners. Ever since then, he's appeared in a variety of animated works and films, including an animated TV special based on Dr. Seuss's The Lorax. On August 2, 1985, Holt died of an apparent heart attack in Van Nuys, California. 
Community content is available under
CC-BY-SA
unless otherwise noted.