Brian Cummings

Born:

March 4, 1948 (age 67)

Location:

Sioux Falls, South Dakota

Roles:

Voice actor

Characters Played:

Dimmy Finster, additional voices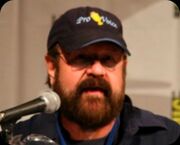 Brian Cummings (born March 4, 1948) is an American voice actor. On the
Snorks
, he voiced
Dimmy Finster
for
Seasons 1
and
2
, before he left the show to pursue other projects. Despite sharing the same last name, he's not related to
Jim Cummings
, who joined the series for the final two seasons. 
Characters Played
Dimmy Finster
Additional voices
Other Notable Voice Work
Bumblelion - The Wuzzles
Dr. Mindbender - GI Joe
Hollywood - 2 Stupid Dogs
Doofus Drake - Ducktales
Papa Bear - The Bernstein Bears (1985)
Stove - Beauty and the Beast
Morton Fizzback and Professor Funt - Denver the Last Dinosaur
Grungees - Jetsons: The Movie
Vulture Police - Timon and Pumbaa 
Clude Cat - Tom and Jerry Kids
Video Game Roles
MCP - Tron: Solar Sailer
Enric - Die By the Sword
Sully - Monsters Inc: Video Game
Sokolov - Metal Gear
Victor5 - Ares 51
Baumusu - Rise of the Kasai
List of Promos and Roles as Announcer
Most Daring and Most Shocking
The All New Let's Make a Deal (1984-1985)
Walt Disney Home Videos (1986-early 2000s)
Dreamworks Animation Home Entertainment (2006-2007)
McDonalds (1990s)
Traveler's Insurance
Sara Lee
Chef Boyardee
ALF Closing Announcer (syndicated reruns)
Personal Life
Brian Cummings was born in Sioux Falls, South Dakota. He is well known for his work in radio and TV commercials, TV and motion picture promos, and cartoons. He began pursuing his chosen career during his senior year in high school, while he worked at a local Aberdeen, South Dakota radio station, KSDN-FM. Ever since then, his voice work has become among the most versitile from the 80s to today. His spouse is unknown, but according to his blog Voiceatility, he does have children of his own. 
Community content is available under
CC-BY-SA
unless otherwise noted.