Clive Revill

Born:

April 18, 1930 (age 84)

Location:

Wellington, New Zealand

Role:

Character Actor

Character Voiced:

Dr. Gallio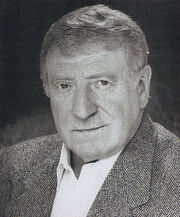 Clive Revill (born April 18, 1930) is a New Zealand-born British character actor most notable for his musical theatre performances and on the London stage. On the
Snorks
, he's best known for voicing
Dr. Gallio
. 
Character Voiced
Other Voice Roles
Narrator - Mickey's Twice Upon a Christmas
Emperor (original voice) - Star Wars: Episode V - The Empire Strikes Back
Radio Announcer - Delta of Venus
Sorcerer Blowfish - The Little Mermaid (TV Series)
Alfred Pennyworth - Batman: The Animated Series
Potsworth - Midnight Patrol
Kickback and Slizardo - Transformers
Chico - The Boy With Two Heads
Acting Roles
Geoffrey Kenyon - BBC Sunday Night Theatre
Harry Kahn - Theatre 625
Volpone - Volpone
Rogozhin - The Private Life of Sherlock Homes
Howard K. Fleming - Brett
Rolf - Arthur of the Britons
Finlay Perkin - Centennial
John Wellington Wells - The Sorcerer (1982 TV movie)
Wizard Vector - Wizards and Warriors
Lord Loudoun - George Washington
Warren Ballard - Dynasty
Andre Bender - TJ Hooker
Inky - Magnum, PI
Slade Collins - The Love Boat
Sir Guy of Gisbourne - Star Trek: The Next Generation
Fire Marshall - Robin Hood: Men in Tights
Video Game Roles
Jetfire - Transformers: Revenge of the Fallen
Additional voices - Star Wars: The Old Republic
John of Lancaster - Jeanne d'Arc
Dr. Doom - Marvel: Ultimate Alliance
Rhobar - Gothic 3
Thorin - The Hobbit
Hawkes - Conquest: Frontier Wars
Alfred Pennyworth - Batman & Robin
General Dodonna - Star Wars: X-Wing
Personal Life
Clive Revill was born in Wellington, New Zealand. He was trained to be an accountant in New Zealand, but chose a different career path in 1950 when he made his stage debut as Sebastian in Twelfth Night. After he moved to England, he made frequent appearances in The Shakesphere Memorial Theatre Company's 1956-1958 productions in Stratford (Hamlet, Julius Caesar, The Tempest, The Merchant of Venice, and Love's Labour's Lost). In 1952, he made his debut on Broadway as Mr. Pickwick in The Pickwick Papers. His numerous roles eventually garnered him a Tony Award nomination. His red hair and "Mr. Punch"-like features even garnered him several comedic roles in British films during the 60s and 70s. He even played humorous foreign characters ranging in different ethnicities from Chinese to Russian. He has since been a voice over artist ranging in different animated shows and movies, from Ducktales to the Transformers. He was married to Valerie Nelson from 1970 to 1977, and to Suzi Schor from 1978 to 1988. Through his second marriage, he has a daughter named Kate Selsby Revill. 
Community content is available under
CC-BY-SA
unless otherwise noted.