Corky



Gender:

Male

Age:

20's-30's

Hometown:

Snorkland

Family:

Unknown

First Appearance:

Sea Shore Sideshow

Final Appearance:

All That Glitters Isn't Goldfish

Voiced by:

Rob Paulsen
Corky is one of the lead characters in "The Snorks" in Season 3 and Season 4, and the leader of the Snork Patrol. He joined the show after Dimmy somehow disappeared. Corky is a brave snork who willingly goes out of his way to help others.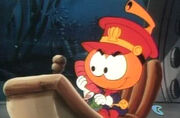 Biography
Not much is known about Corky's past.
Personality
Corky is a brave and generous snork. He is fearless and will go out of his way in order to help others. However, he is portrayed as a workoholic who seems to think at times only his job matters. Corky can also be very sensitive, especially when it comes to romance (The Boo Lagoon).
Relationships
The Snorks
Corky has a great relationship with all of the snorks. They treat him like a fatherly-figure, and he has them help out on the Snork Patrol, even Junior in one instance (The Wizard Of Ice). In fact, some fans of the show have gotten hints from episodes such as "Allstar's Odyssey" and "All That Glitters Is Not Goldfish" that Casey has a little "thing" for Corky.
Appearance
Corky is an orange colored snork wearing a red hat with a shell on it. He also wears a purple and red suit with white gloves and red boots.
Trivia
His main catchphrase is "Looks like this is the job for *blows horn with his snork* the Snork Patrol!"
Was at first upset when SNIP and SNAP were first recognized as heroes of Snorkland (Snip and Snap)
He was the only snork not affected by the red reefberries (Reefberry Madness)
He helps the Governor whenever necessary (Daffney's Ransom, The Snorkshire Spooking, Dr. Strangesnork's Bomb, Ooze Got the Snorks, Robosnork)
He believes drooling is impolite (Daffney's Not So Great Escape)
He is sensitive, and can cry at seemingly romantic stuff (The Boo Lagoon)
He once created a robot named Speeder that would help him on the Snork Patrol, but Speeder went overboard with helping the town that he had to be destroyed later (Robosnork)
JoJo, Casey, and Junior accompany on his trips often (The Sand Witch, The Wizard Of Ice)
Originally didn't know what a hotel was (Big City Snorks)
He's a workoholic who only follows "the book," although he loves doing his job - helping others (All That Glitters Is Not Goldfish)
Community content is available under
CC-BY-SA
unless otherwise noted.