Daffney Gillfin is a central cast member in the series. She has a good heart and enjoys shopping. She is best known for her somewhat complicated relationship with Dimmy Finster in Seasons 1 and 2. She's best friends with Casey Kelp, and also Junior's love interst in Seasons 3 and 4.
Biography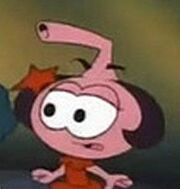 Daffney was born to the Gillfins in Snorkland. Not much is known about her past, except that she has known Dimmy, Allstar, and Junior since childhood (The Day They Fixed Junior Wetworth). She has also been best friends with Casey since they were very young (Water Friends For?).
Personality
Daffney is not as vain as Junior, but she's very sassy. She's loves fashion and shopping. She hates stuff that are nasty. She always likes to look her best. However she does compassion for the other Snorks.
Relationships
Allstar and Tooter
Daffney has known Allstar and Tooter since they were children. While there have been times when she "appears" to be romantic with each of them, that's not the case. In fact, she was still all about Dimmy when she kissed Tooter on the cheek (Vandal Scandal).
Jojo
Daffney and Jojo are good friends. At one point, she may have shown signs of affection for him when they went to the Debutante Ball together after Dimmy rejected her (Me JoJo, You Daffney).
Dimmy
See Dimmy and Daffney's Relationship for further information.
Junior
Daffney and Junior were generally frenemies in the first two seasons. When Dimmy left the show for the last two seasons she appeared to have a little crush on him, despite being grossed out when he kissed her on the cheek (The Day They Fixed Junior Wetworth).
Casey
Her and Casey have been best friends since childhood. They do almost everything together, whether it'd be shopping or joining their friends on their many adventures. One time, they got into a feud over going to a hockey game versus a rodeo, and almost ended their friendship because of it. Soon enough, they reconciled their differences (Water Friends For?).
Appearance
Daffney is coral skinned, wearing a short red dress. She also has a purple bob haircut, and a red star shaped hairpin.
Background Info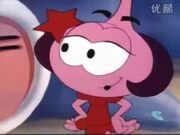 Daffney can carry strong objects with ease (Which Snork Snitched)
Like Casey, she can sing (Allstar's Allstar Band)
She occasionally dabbles in cooking (Snork Marks the Spot, The Shady Shadow)
Takes ballet lessons (Time Out For Sissies)
Daffney's known to not be a very good driver (Whales Tales)
She's good at sculpting, and once entered a sculpture of Casey in an art show (Learn to Love Your Snork)
She has had background experience as a cheerleader (Water Friends For?, Snorkerella)
Throughout the series, she's protrayed as a fashionista who's somewhat flighty
Once competed in and won the Miss Junior Snorkland beauty pageant (The Ugly Yuckfish)
She once followed Jane Flounder and her exercise program (Gills Just Wanna Have Fun)
Daffney hates anything that is, or appears to be, "icky" (All's Whale That Ends Whale, The Longest Shortcut, A Snork in a Guilded Cage)
She loves to shop for clothes and shoes (Daffney's Ransom, The Day the Ocean Stood Still)
In fact, her favorite place to shop is Snorkendale's (Casey in Sandland, The Daring Young Snork on the Flying Trapeze)
She frequently brings curlers, clothes, and other cosmetics when camping (Willie and Smallstar's Big Adventure, A Starfish Is Born)
She's often not asked for help on anything (Daffney's Not So Great Escape)
She's the only central character in the series who's parents aren't shown
Daffney has a huge interest in acting - she even once understudied for Tallulah Bankfish for a local play (Summer and Snork)
Like Casey, she has concerns with her body image (The Daring Young Snork on the Flying Trapeze)
She has acquainted with Lil Seaweed from time to time (Daffney's Ransom, The Daring Young Snork on the Flying Trapeze)