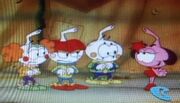 Icky, Sticky, and Blicky are three clownfish (well, clown SNORKS) who work for
P.T. Bass
at the Clownfish Circus. They only make an appearance in
The Daring Young Snork on the Flying Trapeze
. They meet
Daffney
and
Lil Seaweed
after they both have decided to join the circus and replace Tessie as the flying trapeze girls. They appear to be nice and joking around at first, but then they too try to claim the girls as "their own" and "circus property."
Bigweed
tries to stop this as well, but Daffney and Lil Seaweed work together to bring them down. Icky, Sticky, and Blicky are voiced by
Barry Gordon
,
Nancy Cartwright
, and
B.J. Ward
respectively.  
Community content is available under
CC-BY-SA
unless otherwise noted.