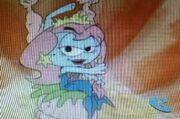 Irene is a light blue skinned snork siren with pink hair and yellow starfish earrings. She has the appearance of a beautiful mermaid, and she only appears in
Allstar's Odyssey
.
Allstar
, after following the Golden Fleece, finds her in her home, and is in awe by her singing and majesty. In fact, she has a really beautiful singing voice. However, she will turn into a vampire-like snork when angry. She at first traps Allstar, but then realizes he's "the chosen snork" she's been waiting 5,000 years for. She gives him the Pearl of Wisdom along with the Greek Earn. The Pearl of Wisdom has entitled Allstar to three wishes, and he chooses his last one to always confide in Irene. She also will come visit him again when evil stops lurking.  
Community content is available under
CC-BY-SA
unless otherwise noted.