Joanie Gerber

Born:

July 29, 1935

Location:

Detroit, Michigan

Died:

August 22, 2011 (age 76)

Location:

Los Angeles, California

Roles:

Voice actress

Characters Played:

Mrs. Kelp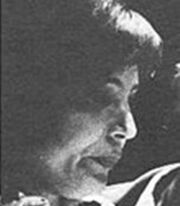 Joanie Gerber (July 29, 1935 - August 22, 2011) was an American voice actress. On the
Snorks
, she was best known for providing the voice of
Mrs. Kelp
. 
Characters Played
Other Voice Roles
Mrs. Beakley - Ducktales
Dreadonia - Scooby-Doo and the Reluctant Werewolf
Additional Voices - The Pink Panther Show
Additional Voices - Help... It's the Hair Bear Bunch!
Mrs. Zuckerman and Mrs. Fussy - Charlotte's Web
Additional Voices - Dynomutt
Lefty Callahan and Mrs. Cornell - Scooby-Doo and Scrappy-Doo
Lavonne - Scooby-Doo Goes Hollywood
Additional Voices - The Bugs Bunny and Tweety Show 
Additional Voices - Teenage Mutant Ninja Turtles (1987 series)
Additional Voices - Gravedale High
Additional Voices - I Yabba Dabba Do!
Additional Voices - The Bugs 'n Daffy Show
Personal Life and Death
Joan "Joanie" Gerber was born in Detroit, Michigan. Her first voice role was "all the children in a Japanese train wreck" for a TV episode of Godzilla. Since then, she has voiced many characters, her favorite being Feddy the Flute for Pufnstuf. From 1957 to 1961, she was married to Frank Dowse, and she has a daughter through that marriage. On August 22, 2011, she died at the age of 76 from natural causes. 
Community content is available under
CC-BY-SA
unless otherwise noted.