Jojo

Gender:

Male

Age:

Around 15-16

Hometown:

Somewhere along the outskirts of Snorkland

Family:

Unknown

First Appearance:

A Snork On the Wild Side

Final Appearance:

All That Glitters Isn't Goldfish

Voiced by:

Roger DeWitt
Jojo is a Tarzan-like snork who lives along the outskirts of Snorkland, lcoations changing at random points in time. He is friendly with the other Snorks even if he's misunderstood at times.
Biography
Not much is known about Jojo's past, and before meeting
Allstar
and his friends, his only faithful companion was Fengy, his dogfish. Upon meeting the other snorks, he rescues animals from the local zoo. This angers
Governor Wetworth
, who has him sent to jail for a short time (
A Snork On the Wild Side
). Throughout the series, he learns to acquire proper English, attends high school, and joins the snorks on their many adventures (
Guess What's Coming To Dinner?
,
Junior's Empire
,
Mummy Snorkest
).
Personality
Jojo is the Tarzan Boy type who lives in the jungle. Although he's more or less the heroic type of snork in the series, much similar to Allstar. However, he has been known for his strength and can sometimes show off.
Relationships
Daffney
Jojo has been known to fancy Daffney throughout the course of the series. In fact, it has been hinted that she kind of liked him too (Me JoJo, You Daffney; JoJo In Control)
Junior
In Seasons 1 and 2, Junior hated Jojo. But in Season 3 they became friends and went on adventures together.
Appearance
He is a tan-skinned snork with two snorks on his head. He also wears a loin cloth, and usually has Fengy by his side.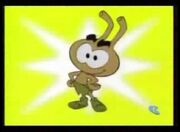 Trivia
Gallery
Community content is available under
CC-BY-SA
unless otherwise noted.